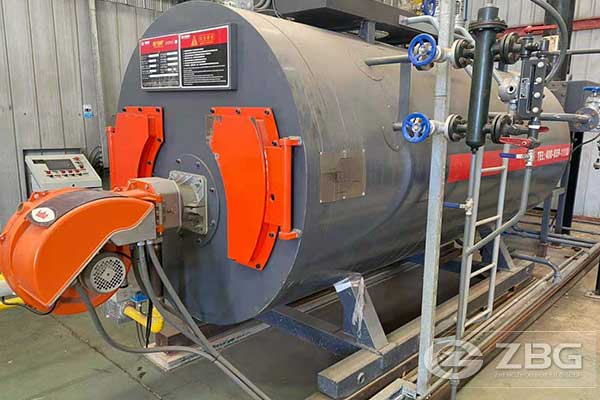 Capacity:1 Ton/hr
Pressure:10 Bar, 150 Psi, 1.0Mpa
1 ton/hr gas steam boiler produced by ZBG Boiler Group is used for rubber vulcanization industry. The measured NOx emission concentration is far below 30mg/m3.
At present, the boiler equipment has been in normal operation in Chile, and customers are very satisfied with it.
1 ton/hr gas steam boiler belongs to WNS series oil and gas fired boilers, which is one of the key export products of ZBG Boiler Company. They are widely used in production, textile, pulp & paper mills, refinery, food & beverage plants, and other fields.   
The details of 1 ton/hr gas steam boiler in Chile   
The WNS1-1.0-Q gas steam boiler that exported to Chile is a shell-and-shell three pass fire tube boiler. After the gas is sprayed and atomized by the burner, the micro-positive pressure is burned in the corrugated furnace, and the high-temperature flue gas flows along the corrugated furnace to the back combustion chamber; then the front side is flushed to the heated surface of the threaded tobacco tube, and the convective heat transfer is before the arrival. Cigarette case; after the convection heat exchange in the economizer and flue gas condenser, it is discharged into the atmosphere through the chimney. The boiler feed water should be softened, soft water is injected into the cold water tank, and the cold water is pumped into the flue gas condenser. After the heat is fully exchanged with the flue gas, it flows into the hot water tank, and the soft water in the hot water tank is filtered and then pumped into the economizer, fully heat transfer and enter the boiler directly.
Please fill in the form below to send us a brief message, and we will get back to you as soon as possible.